I was talking to the LM about the book I made for Kevin
here
.. He wanted to know what Valentines Day was...
I told him that if you love someone on this day you can send them a little card to tell them that.
Oh do you want to make a card for me sweetie "No I want one for Nana and Kerry " oh OK thanks alot... to which he said "you don't need a card you got me" well I guess he is right in a weird 5 year old boy's mind.ha ha
So I checked out Pinterest and saw these
love bugs
and thought well they aren't too girly or mushy so we can do these. Plus I wanted something really fast as LM has a short attention span.
I am not sure if this was the original site it is on Pinterest heaps but to whoever who thought of it thanks heaps....
The bugs I got from Kmart for $3 for a tube of these little cuties bugs....
I printed the jar shape onto some card stock.I got 4 to a sheet. I printed a couple of sheets out because I gave some to a friend for her boys to make.
LM cut out some of the jar shape but got cranky and said it was too hard....sometimes he does this so he can get out of doing it.....what do you expect he is a man (well a little man )
The LM wanted to stick black cockroaches on these cards I drew the line at this as I didn't think mum or Kerry would appreciate opening a letter to see a big black bug looking at that...(I wish I could have seen their reaction if he did send cockroaches he he he ) so he choose these 'CUTE' little bugs for them...
I had to attach them with a hot glue gun as the underneath part of the bug wasn't really smoothe so I did that part for him.....
Oh before the bug was glued on LM wrote a message on the back for each of them....He was determined as to who got which bug.To me one bug is the same as the other ha ha .....
So mum and Kerry will get these tommorrow and I think it will be a Valetines card that they will remember for awhile.
I think it is just right for a kid to make.Hey these would even be good for birthday party invites...mmm I will have to remember that one or I am letting LM have a Halloween party for his class mates this year I could turn this into a invite to that or -hey stop thinking and just get Valetines Day out of the way .....
I am putting this on
Wow us Wednesdays -come over and have a look..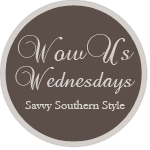 Savvy Southern Style